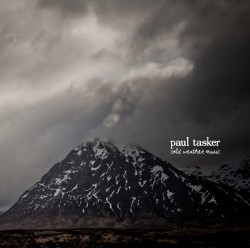 Cold Weather Music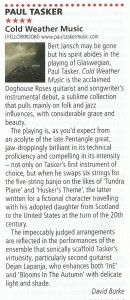 Bert Jansch may be gone but his spirit abides in the playing of Glaswegian Paul Tasker. Cold Weather Music is the acclaimed Doghouse Roses guitarist and songwriter's instrumental debut, a sublime collection that pulls mainly on for and jazz influences, with considerable grace and beauty
The playing is, as you'd expect from an acolyte of the late Pentangle great, jaw-droopingly brilliant in its intensity – not only on Tasker's first instrument of choice, but when he swaps six strings for the five string banjo on the likes of 'Tundra Plane' and 'Husker's Theme', the latter written for a fictional character travelling with his adopted daughter from Scotland to the United States at the turn of the 20th century.
The impeccably judged arrangements are reflected in the performances of the ensemble that sonically scaffold Tasker's virtuosity, particularly second guitarist Dejan Lapanja, who enhances both 'InE' and 'Blooms In The Autumn' with delicate light and shade. R2 Magazine July/ August 2016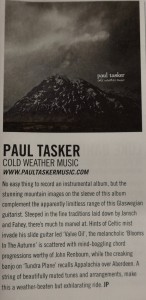 'No easy thing to record an instrumental album, but the stunning mountain images on the sleeve of this album complement the apparently limitless range of this Glaswegian guitarist.  Steeped in the fine traditions laid down by Jansch and Fahey, there's much to marvel at.  Hints of Celtic mist invade his slide guitar led 'Valve Oil', the melancholic 'Blooms In The Autumn' is scattered with mind-boggling chord progressions worthy of John Reborn, while the creaking banjo on 'Tundra Plane' recalls Appalachia over Aberdeen.  A string of beautifully muted tunes and arrangements, make this a weather-beaten but exhilarating ride.  Acoustic Magazine, June 2016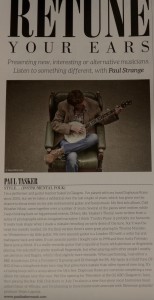 Retune Your Ears Column, Acoustic Magazine, June 2016 (Click on image for full size article)
Music for cold weather it might be labelled but the heat of performance is such that there are moments when the feeling of true escape, of solitary exploration in the jungle of cords and the truth of free will is explored with so much potential that the vastness of entire continents is to be felt at the finger tips, pulsing away and feeding the listener with the words, touch me, allow the music to infect and cajole the spirits;. It is a feeling of intense pleasure that grafts away with subtle beauty, of innocence and pleasure, the virtue of the first kiss with a future and tender lover' – *****  Full Review at Liverpool Sound and Vision Blog 
Blooms in the Autumn returns the album to Europe. The first of the tracks on which Dejan Lapanja plays is a waltz straight out of a film such as The Third Man. The flowers are fading and the tune makes sure that you know. It is a lovely piece, haunting enough to creep into your day and stay there. As with the two banjo driven tracks above, In E, which also features Lapanja, couldn't be more different. It opens quietly enough and grows into a piece which suggests in turn bluegrass then Tony Rice's newgrass. The closing track, Rising, has some similarities with InE but is perhaps less blue grass and more American Primitive as it has and continues to be developed by players such as Glenn Jones.
If you like your music to be predictable and albums tracks to be homogenous, maybe this is not for you…your loss. Personally, I loved it. Full Review at FolkRadio.co.uk
'Tasker made the right decision in stretching 'Cold Weather Music' from an EP as it was originally planned into an album as it is constantly riveting and engaging. Emotive and packing a quiet wallop, 'Cold Weather Music' is a record of great depth, dense with ideas and, an album of both scope and imagination, instrumental music at its finest'.  Full Review at Pennyblack Music
'Drawing on a screenwriter's photographs from an as yet unmade film, the nimble-fingered guitarist extraordinaire Paul Tasker composes a soundtrack to an imaginary expansive Americana canvas. Though based in the harsher, colder climes of Glasgow, and for a period before that Aberdeen, Tasker's instrumentals evoke both America's dust bowls and prohibition era Appalachians rather than the Scottish landscape. Dusky hour, shadowy images of mountains accompany the Cold Weather Music album, yet the nine compositions contained within cover an array of both moods and geography.'  Monolith Cocktail Music Blog.
'The blissful arrangements veer seamlessly from the delicate to the eloquent with a constant sheen of pride and daring evident on each and every track. The dreamy Gorlitzer is intricately moody and at times I half expected Nick Drake to pop in to whisper lyrics. The delicious Sky Train continues the English folk flavour with flute and cello, conjuring up images of clouds hovering over a brooding mountaintop' Full Review at Fatea Online Magazine
'All instrumental, the album works on several levels. At its simplest it's a wonderful and contemplative set of music, perfect to listen to while relaxing, a guitar and banjo led example of Brian Eno's theory of ambient music and indeed there's a whiff of Eno's cosmic astronaut cowboys (as on Deep Blue Day) on the opening number here, Husker's Theme, with pedal steel suitably evocative. Flute adds a "Northern Skies" touch a la Nick Drake to the wistful Sky Train while Blooms In The Autumn could well have been plucked from a John Renbourne medieval rhapsody. The album may be called Cold Weather Music but it begs to be listened to in front of a roaring fire with a suitable libation to hand, the coals crackling echoing the occasional snap and slither you can hear of Tasker's fretboard work' – Full Review at Blabber 'n' Smoke Music blog
'A gentle album of American style guitar and banjo, this CD reminds me of some of the Windham Hill releases of the 1990s. It's beautifully played, slightly hypnotic, and would make the perfect background music for a film about pine forests or birch woods in winter. The slow picking of Husker's Theme takes us from the front porch swing, across the fields and into the trees. Gorlitzer is like running through the snow, footfalls soft, all sounds wrapped in a blanket of white. The slightly darker tones of Sky Train hint at hidden shapes, watching eyes, with the occasional wild crash of a startled deer or a flock of birds breaking cover.' Full Review at Living Tradition Issue 115 
'Cold Weather Music is a beautiful object that ranks in the top 10 albums of 2016′.  Full Review at Piggledy Pop (in French).
I also did a recent Interview with with Paul Kerr of  Blabber 'n' Smoke Blog discussing the album and Doghouse Roses